A Series of Ridiculous Events: Election Edition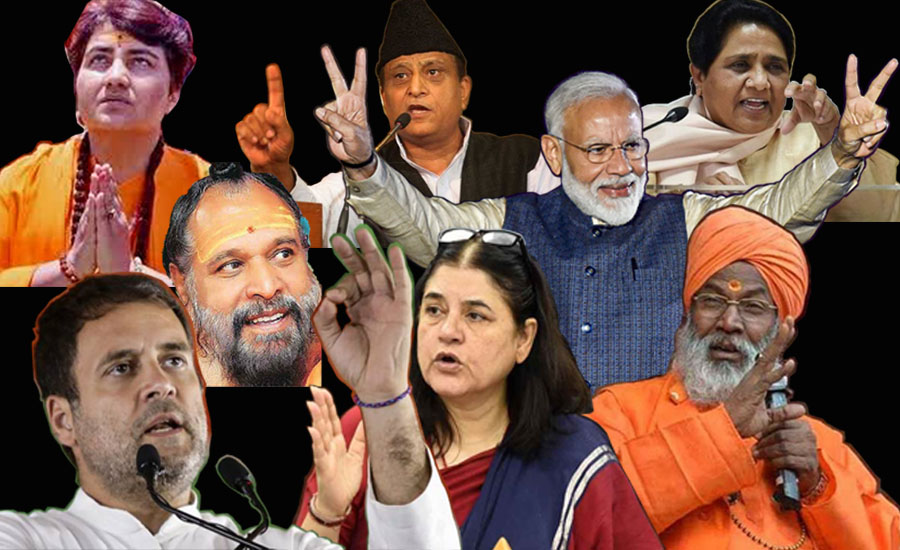 A Series of Ridiculous Events and Provocative Statements Recorded During The 2019 Parliamentary Elections
Unabashed, unscripted, unaltered.
1) In his interview with News Nation, PM Modi claimed in evocative detail that, "Experts were questioning whether to postpone the surgical strike due to cloudy weather, but I suggested that the clouds could actually help our planes hide from enemy radars." A lesson in tactical aeronautics that Vayu Aerospace, Defence Review and four Air Marshals (also all of us) did not seem to receive.
Modi on May 11th, deep in thought / clouds.
2) "First time I used digital camera in 1987 or 1988… then a handful of people had email. At one of the public meetings of (LK) Advani ji in Gujarat's Viramgam, I had a digital camera. I took a photo of Advani Ji and transmitted it to Delhi. He was surprised and said how did my colour photo appear today," PM Modi said in the interview to News Nation. At that time India didn't have access to email so maybe Mr. Modi lives in a different dimension than us?
Modi interview with the News Nation crew on May 11th, where his surgical strike on facts was recorded on a digital camera.
3) "I told Hemant Karkare to release me, but he refused. He said he'll frame charges also but won't let me be released. Maine kaha tera sarvanash hoga. Theek sava mahine mein sutak lagta hain. Jis din main gayi thi theek usi din iske sutak lag gaya tha. Aur theek sava mahine mein jis din atankwadiyon ne isko maara us din uska anth hua" No comment.

Pragya Thakur revealing on April 19th a curse so strong, it almost killed her campaign.
4) "I am winning, but if my victory is without Muslim votes, my feelings will get hurt. If Muslims then come to me asking for work, then I will think let it be, how does it matter? After all, a job is a deal" We're pretty sure the MCC doesn't allow blackmailing/bribing people for votes with jobs? Or anything else?

Maneka Gandhi in her April 11th speech, where she threatened to make India's high unemployment rate even worse.
5) "Even if you decide to go to Pandharpur, to seek blessings of God, you are unlikely to get blessings as I'm your God who can speak" Siddeshwar Mahaswami, Solapur MP reassured his voters that the best pilgrimage they could make on election day would be to the voting booth.

A candid of Mahaswami on April 13th, the day he came forth to this world as a God.
6) In a recent interview, sitting Unnao MP and current BJP candidate Sakshi Maharaj was asked what his qualifications were, to which he responded, "BJP has to give me the Unnao ticket again. Because I am an OBC" Apparently, caste is not a just a criteria anymore, it's a qualification.

An ever confident Sakshi Maharaj explaining his (lack of) qualifications to reporters on March 12th.
7) "When a saint comes to beg and isn't given what he asks for, he takes away all happiness of the family and in turn gives a curse to the family. I am not asking for money or land, I am asking for votes" What place do BJP MP Sakshi Maharaj's medieval curses have in Unnao's proposed development plans? Here's hoping that, if re-elected, his magical powers will bestow as much happiness as they can take away.

Sakshi Maharaj making the above statement on April 12th, his hand mid wizardly gesture.
8) Speaking about Jaya Prada, Azam Khan shared his insights."It took you 17 years to understand her true face. But I realised in 17 days… Inke neeche ka underwear khaki rang ka hai" The quintessential question is, how does he know that?
Azam Khan as he made the above statement at a rally on the 14th of May. The sunglasses seem to have done their job of keeping the light away from his (fore)sight.
9) "Why all the thieves have Modi in their names whether be it Nirav Modi, Lalit Modi and Narendra Modi? We don't know how many more such Modis will come out." said Rahul Gandhi at a rally in Karnataka referring to his slogan "chowkidaar chor hai". Promptly ensuring the deduction of all Modis and chowkidaars from his voter base.

Rahul Gandhi at his April 13th rally, being at the other end of a jab about surnames for the first time in his life.
10) "How can he (Modi) respect sisters and wives of others when he has left his own innocent wife for political gains? All wives of BJP politicians are scared that their husbands will leave them like Modi did" Is Mayawati scripting the next hit television series "Real Wives of BJP" to compete with NaMo TV?

The director of "Desperate Housewives" going through the script for the next episode on April 11. Wait, sorry that's Mayawati.
- Siddhant Kesnur & Tarini Ranadive