An Attack A Day Keeps The Doctor Away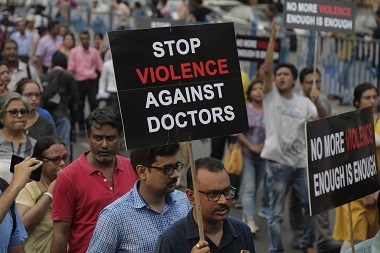 West Bengal's healthcare system faced huge turmoil after several doctors from different state-run hospitals went on a doctors strike against the violent attack on 2 junior doctors. Such violence against healthcare professionals in India has come in various forms including verbal abuse, aggressive gestures, mob lynching etc.
The Indian Medical Association (IMA) has stated that violence was a cause of stress for 43% of doctors and reported that 75% of doctors face physical and mental abuse in India. Violence against doctors has attributed to a lack of funding and investment in healthcare, which has transcended to lack of security measures for medical personnel. Every year, only 1% of the GDP is allocated to healthcare in India, which is less than in other countries with similar GDPs.
How it all began
Paribaha Mukhopadhyay and Yash Tekwani are two resident interns at the NRSMCH in Kolkata. They were attending to 75-year-old Mohammad Sayeed, a patient from Tangra when he passed away due to an acute cardiac arrest and heart complications. The relatives of the deceased believed that this was a result of medical negligence and so organized an attack on the two doctors. A mob of around 200 people showed up at 10:45 pm, attacked the junior doctors by throwing stones and coconut shells on them, injuring them critically and causing them to be admitted to the ICUs. This resulted in around 50 doctors at the hospital closing the gates and refusing to attend patients in protest against the attack on the 2 intern resident doctors.
The protest escalates
The fervour that was initiated by a small protest by the 50 doctors quickly spread across all 13 state-run hospitals and medical colleges in the city. It led to 6 other district hospitals going on doctors strike. Next, medical associations across the country joined the doctors strike on 14th June by declaring a boycott in line with the directions of the IMA, which directed all state branches to stage protests and wear black badges as a sign of protest. Doctors of the All India Institute of Medical Sciences (AIIMS) joined the protest as over 40,000 from Delhi and Maharashtra went on a doctors strike to join the solidarity that spread across India.
Political Interventions
Different politicians from across the country such as Congress MP Adhir Chowdhury wrote to Prime Minister Narendra Modi asking for his intervention to solve the deadlock over healthcare services being disrupted in West Bengal, though so far there has been no official response. All India Trinamool Congress (TMC) leader and Lok Sabha MP Kakoli Ghosh Dastidar's son Baidyanath Dastidar strongly condemned the situation by stating that he didn't care about politics and wanted to take a stand "for the doctor's movement".
Mamata Banerjee
Many striking doctors criticized the Banerjee government in social media posts, claiming that the attackers were allegedly dealt with softly because they belong to the Muslim community.
On the third day of the protest the Chief Minister of West Bengal, Mamata Banerjee issued an ultimatum to the doctors asking them to resume work within the next 4 hours or be sacked. She made this statement while visiting one of the state-run hospitals, SSKM in Kolkata. She stated that the government "will not support them in any manner" and is "appalled at the fact that they call themselves doctors when they are not serving the public in any way." Furthermore, she added that even policemen die every day, but they do not go on strike. She quoted, "This ultra-religious, fundamentalist madness is lighting pyres of terror… Some people are provoking them." This aggravated the doctors strike, resulting in around 246 resignations given by doctors working in various hospitals in West Bengal, including notably the Principal and Medical Superintendent of Nil Ratan Sircar Medical College (NRSMCH).
Demands
Follow this, the doctors in West Bengal urged for state Chief Minister to hear them out in a live press meeting and asked her to adhere to all their demands. The doctors demanded a larger portion of the GDP to be allocated to health services and for an increase in the security of all doctors and hospitals by the installation of CCTVs in state-run hospitals. They further added that they require police enforcement to be deployed outside hospitals for more protection.
Resolution
The junior doctors in West Bengal called off their doctors strike on 17th June 2019 after a truce was achieved following a two-hour meeting with Mamata Banerjee with live press coverage. The doctors stated that they were satisfied after the chief minister finally agreed to all their demands and stated that police personnel would be deployed outside hospitals, and CCTV cameras would be installed to ensure maximum safety of all doctors.
Conclusion
A truce was achieved after a 7-day protest by all junior doctors that left a drastic effect on all the health services across the state. The doctors strike also left some snowball effect in health service sectors in other states as the IMA called for a nationwide protest against violence in hospitals and also went for a shutdown on June 17.
After this matter was taken to the Supreme Court the bench of Justices Deepak Gupta and Surya Kant deferred the hearing after the resolution of the matter. They stated that as the matter was not of any urgency and the doctors strike had been called off, they would not be passing an order soon. One must wonder why the Supreme Court of India needs to wait for a matter to get to a point of utmost urgency before they take any action. Just like in the Dr. Payal Tadvi case where action was not taken until the suicide was committed and the situation was amplified.
- Arsh Malhotra