One Nation, One Election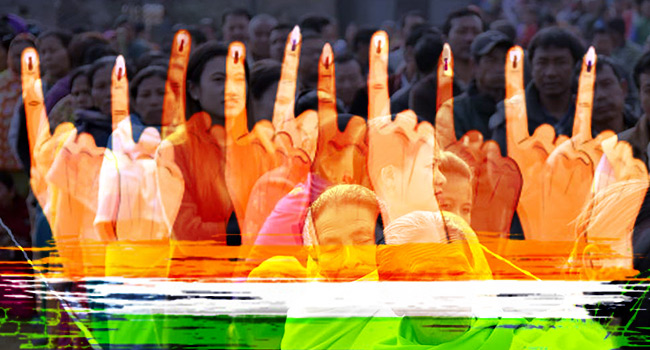 The idea of One Nation, One Election (ONOE) means conducting the Lok Sabha, and all Vidhan Sabha (state assemblies) elections together, once in five years. This excludes elections of panchayats, state municipalities and by-elections. The initiative will need a constitutional amendment, which will require ratification by 50% of the states.
PM Modi is one of the main proponents of the ONOE concept, but it is not a new one: India has followed ONOE in the past, with elections in the year 1952, 1957, 1962 and 1967 based on this concept. A Law Commission Report (1999) by Justice BP Jeevan Reddy first brought this concept to parliament, now considered in a discussion paper for NITI Aayog (2017) by Bibek Debroy and Kishore Desai.
These results have indicated two things: first, a dominant party at the Centre can carry momentum to states, but it's not easy to maintain it for a long period. And second, given individual state dynamics, it's not easy for India to persist with simultaneous elections. Forcing elections into synchronicity is not just a technical matter of adjusting legislative terms, but it involves significantly curtailing the rights of the states.
Policy Paralysis
According to NITI Aayog- a policy think tank of the Government of India, "In the last 30 years, there has not been a single year without an election to either a State Assembly or Lok Sabha or both."
Due to the Model Code of Conduct, the government is barred from announcing any new project, development work or policy decision till the polls are over. Proponents of ONOE maintain that this lulls the state machinery to a standstill and brings about what is known as "policy paralysis".
Cost of elections vs. Cost of democracy
Holding simultaneous elections would not just ensure that the administrative machinery is allowed to engage in developmental activity, but also advantage the government treasury and save crores of rupees of taxpayers' money, by reducing the burden on security forces required for elections. It is estimated that the ECI spent over Rs. 4,000 cr on the 2019 elections.
As an ONOE supporter ex-CEC Qureishi notes, the scale of police forces will be staggering: "Unless there is the deployment of an adequate number of paramilitary forces, even simultaneous elections will have to be carried out over a period of 2-3 months which will defeat the purpose. Currently, an election sees deployment of about 800 company forces. The government will have to provide at least 3,000-3,500 companies to ensure that the election is conducted within 30 days at least."
There are also questions about the feasibility of simultaneous elections. The fact that polling is now electronic means that double the number of Electronic Voting Machines would be needed. Although the ECI in the 2019 elections has shown that logistical challenges can be figured out, the bigger problems raised by ONOE are conceptual and democratic challenges.
Federalism: The Ideology
Recurrent elections may be good in a democracy as voters can ensure their voice is heard more frequently. Representatives are accountable and forced to interact with the voters more regularly during the term. Also, separate elections ensure that local and national issues don't get mixed up because if combined, local issues that are of great importance are at risk of getting subsumed by bigger national ones.
The underlying themes of national elections and state-level elections are different. While issues such as farmer crises, unemployment, and national security could play out big during Lok Sabha elections, assembly elections are usually won or lost on themes such as law and order, electricity, and deaths because of encephalitis or flooding.
This principle is the core of federalism, which can be quite simply defined as a system of government in which several states form a unity but remain independent in internal affairs. India has a quasi-federal structure, and the Constitution establishes this when it calls India a "Union of States", ONOE, therefore, can be seen as undermining the country's federal system.
The Legal Limitations
Article 83(2) deals with the tenure of the Lok Sabha and says that it shall be for 5 years unless dissolved earlier. Article 172 says that tenure of State Assemblies shall be 5 years unless dissolved earlier. The responsibility of the legislature is outlined in Article 75(3) that states "In a federal parliamentary democracy, the council of ministers in the Central government and the state government shall be collectively responsible, respectively, to the House of the people and to the Legislative Assembly [Article 164 (2)].
However, the state assemblies can only be dissolved for specific reasons that are in accordance with Article 356 of the constitution, and dissolving the assembly for simultaneous elections would be a violation of the constitution.
ONOE raises fundamental questions about governance: what would happen if the central government collapses in the middle of its tenure? Would elections be held in all the states again? Or would President's Rule be imposed? Creating an amendment to the constitution for something of this magnitude would not only require many other situations and provisions to be taken into account but would also set an alarming precedent for more alterations to the constitution.
Is this the first time the idea is being tried?
According to the paper prepared for NITI Aayog by Bibek Debroy and Kishore Desai, the concept is not new. After the adoption of the Constitution in 1950, polls to the Lok Sabha and all state assemblies were held simultaneously every five years between 1951 and 1967. However, as states were formed or reorganised, or assemblies were dissolved before their scheduled terms, that practice started being challenged.
Between 1952 and 1967, India was a largely unitary state with the Congress overwhelmingly strong at both national and state levels. It was the rise of regional parties and their success in state polls that lead to the politics that made simultaneous polls a non-efficient system. The Law Commission also recommended this idea in 1999 when the RSS-BJP gained prominence in elections, and leaders like LK Advani were vocal in their support for it.
Source: Hindustan Times, August 2018
One of the first indications of simultaneous elections not working were noticed in Kerala in 1959 when the CPI-lead government, one of the first democratically elected communist governments in the world, was dismissed and President's Rule was imposed. Special state elections were called in 1960 and the resulting government did not dissolve in 1962 when national elections were held. It continued till 1964 when President's Rule was imposed again. This lasted till 1967, which put Kerala back in sync with national polls, but the intense politicking that emerged showed that centre-state differences were always going to make simultaneous polls hard to maintain. By then, other states were throwing up challenges to Congress rule and simultaneous polls were quietly abandoned.
While comparing the Congress' rule during the previous period of simultaneous elections to the BJP's current reality, it is important to note the political contexts are very different and there are numerous dynamics involved. Yet, they have one thing in common: momentum.
Source: Hindustan Times, August 2018
Source: Hindustan Times, August 2018
These graphs suggest that in the first three years (in states that saw simultaneous elections), the Congress had a near-perfect record at both the Lok Sabha and Vidhan Sabha levels. But not in 1967, when simultaneous elections were held in 18/27 states: it failed to win four states at the Lok Sabha and give at the Vidhan Sabha (Chart 2). Over these four years, its margin of victory, as represented by seat share kept reducing, and it fell more at the Vidhan Sabha level than at the Lok Sabha level (Chart 2 and 3).
Is there political consensus on the issue?
The all-party meet called to discuss the proposal was skipped by the heads of several political parties including the Congress (INC), Trinamool Congress (TMC), Bahujan Samaj Party (BSP), Samajwadi Party (SP) and Dravida Munnetra Kazhakam (DMK), while Aam Aadmi Party (AAP), Telugu Desam Party (TDP) and Telangana Rashtra Samithi (TRS) sent representatives to attend it.
Congress has outright rejected the proposal calling it a design of the saffron party to bring "one face, one name and one ideology".
But other leaders such as Orissa CM and BJD leader Navin Patnaik have backed the idea.
International Inspiration: From Coat-tails to Kurta-tails and beyond
According to the Economic Times Bureau, the real issue at hand is the consolidation of power at the centre, which in the USA is referred to as the 'coat-tails effect', wherein a strong national leader or party pulls along candidates at the state level. In President Obama's campaign, his individual popularity pulled enough votes to give the Democratic Party a majority in the House of Representatives where they had an inherent disadvantage.
Debroy and Desai note this argument, however, they have cited studies that show a coat-tails effect does not seem to exist: Odisha in 2014 saw the Biju Janata Dal win a majority over the national tide in favour of the BJP. They argue a strong and effective state government can buck the trend.
The ET Bureau argues against this generalising claim and suggests instead a 'kurta-tail effect' of BJP's enthusiasm for simultaneous polls — and why it's not likely to be reciprocated by other parties. Many critics of the ONOE perceive it as a "devious way to do away with democracy and federalism," some even going on to say that it's deceptively unifying nature and catchy name are another one of PM Modi's "policy of distraction".
Will India remain a parliamentary democracy and respect its regional diversity should be a decision made by an independent institution comprising of acknowledged constitutional authorities. As Karan Thapar of India Today writes, "politicians, who could gain or lose, should not be involved."
Sources:
https://www.indiatoday.in/india/story/one-nation-one-election-perish-thought-1553953-2019-06-22
https://www.thehindu.com/news/national/one-nation-one-election/article28073916.ece
http://www.legalserviceindia.com/legal/article-266-one-nation-one-election-the-law-and-the-politics.html
https://www.hindustantimes.com/columns/how-one-nation-one-election-could-alter-our-political-system/story-P6j7JHLkSdiYpOdfuOKVVM.html
https://economictimes.indiatimes.com/news/politics-and-nation/simultaneous-national-and-state-elections-a-look-at-what-could-work-and-what-may-not/articleshow/60887160.cms?from=mdr
https://indianexpress.com/article/opinion/columns/across-the-aisle-one-nation-one-election-many-fears-bjp-narendra-modi-government-5806853/
https://aamaadmiparty.org/opinion-one-nation-one-election-will-kill-the-spirit-of-indias-constitution/
https://www.hindustantimes.com/india-news/what-happened-when-simultaneous-elections-were-last-held-in-india/story-e5fKaGmCyb9FUjqckUz2BJ.html
https://www.indiatoday.in/news-analysis/story/one-nation-one-election-an-rss-bjp-agenda-lingering-for-two-decades-1551812-2019-06-19
https://niti.gov.in/writereaddata/files/document_publication/Note%20on%20Simultaneous%20Elections.pdf
https://www.thehindubusinessline.com/specials/india-file/synchronised-polls-are-a-smokescreen/article28253860.ece
https://www.thehindu.com/news/national/one-nation-one-election/article28073916.ece
- Tarini Ranadive