PM Modi's Independence Day Speech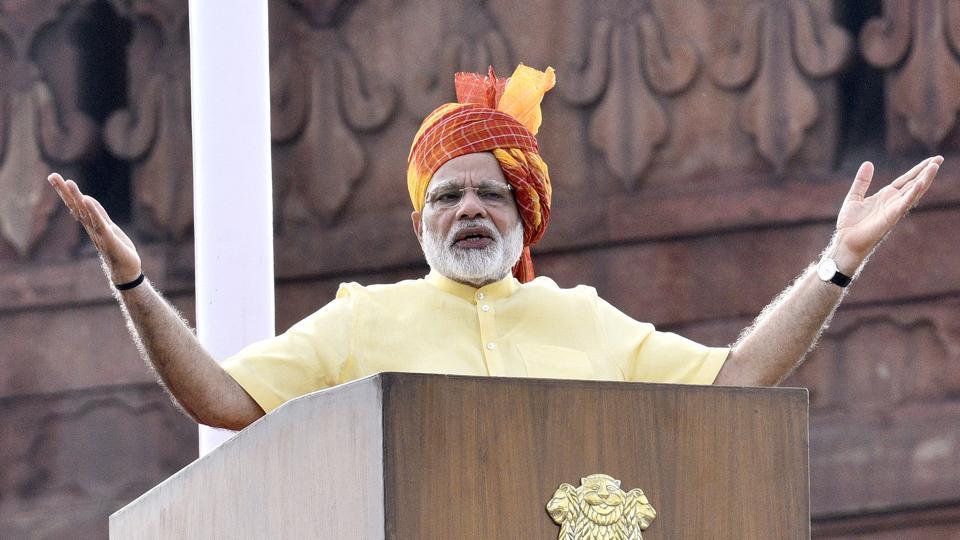 In light of the sheer volume and magnitude of legislature and politics that the country has witnessed in the past few months, the Prime Minister's annual Independence Day address from the Red Fort was eagerly awaited by many. There were many topics that his speech did cover, and many that he didn't. Here is a summary of some of the key highlights:
Article 370: PM Modi said special constitutional status for the state of Jammu and Kashmir had encouraged corruption and nepotism and created injust hurdles for the women, children and minority communities in Jammu & Kasmir. He cemented his stance by saying, "Today every Indian can proudly say, 'One Nation, One Constitution'." a phrase that was seen by many as a subtle hint towards a uniform civil code. Furthermore, he went on to stress that this decision was made for the "direct benefit of the people on the ground" and that they would be able to raise questions to the centre directly instead of raising their issues through the media.
Triple Talaq: PM Modi acknowledged his decision to abolish the Muslim practice of instantaneous Triple Talaq, stating that the sword of triple talaq hung low on the female Muslim population and on equality in India. Adding to this, he questioned why having stood up against sati we shouldn't raise our voices against Triple Talaq.
Economy: PM Modi talked about his aim to turn India into a $5 trillion economy within the next 5 years. He highlighted the importance of every citizen in this initiative and said, "If every citizen starts contributing to the nation, we can achieve this. People say it is difficult but if it's not then why strive for it. In the last 70 years, we became a 2 trillion-dollar economy and only in the last 5 years, we added 1 trillion dollars. This gives me the confidence of becoming a 5 trillion-dollar economy." He also spoke about the importance of wealth creation, calling it "essential" and went on to say that "Those who create wealth are India's wealth and we respect them."
Water Crisis and Floods: PM Modi acknowledged the hardships that farmers around the country are going through due to floods, saying "Today, when we are marking Independence Day, many of our citizens are suffering due to floods in various parts of the country. We stand in solidarity with those who are affected by the floods,". Furthermore, he spoke about the new ministry of Jal Shakti that has been formed and went on to introduce a new 'Jal Jeevan Mission' to address the ongoing water crisis, saying "Today, from the ramparts of Red Fort, I announce that we will launch Jal Jeevan Mission to provide drinking water to all. The state governments will work with the Centre. Rs 3.5 lakh crore will be used for this mission."
New Defence Post: PM Modi created a new position of 'Chief of Defence Staff', similar to that of a Join Chief of Staff in Western military forces, "to further sharpen coordination between the forces". Modi said. defense experts have long called for such a post, which was recommended by a government panel in 1999 after India came close to a war with Pakistan over Kashmir.
Environment: PM Modi urged a halt to use of single-use plastics, suggesting a phase-out date of October 2nd, Gandhi Jayanti. He said "Can we free India from single-use plastic? The time for implementing such an idea has come. May teams be mobilized to work in this direction."
Infrastructure: Modern Infrastructure is one of the visions that PM Modi highlighted in his speech, stating that it has to be set up to meet the needs of the 21stcentury. He announced that the government has decided to invest Rs. 100 lakh crores on the country's infrastructure, and emphasized the importance of modern roads, railways, bridges, hospitals, saying that "People are no longer happy with plans of railway stations, they want Vande Bharat Express in their area."
Population: PM Modi talked about the increase in the population of the country, and urged the nation to understand the importance of birth control, saying "Population explosion in the country will create various problems for the coming generations. Those who follow the policy of small family also contribute to the development of the nation, it is also a form of patriotism. There is a need of social awareness in the country".
Tourism: PM Modi spoke about creating 100 tourist destinations in the country, saying "Let us pledge to visit at least 15 tourist destinations before 2022,".
Terrorism: Highlighting the recent terrorist threats to India, PM Modi said "Today, the entire world faces the threat of terrorism... the dark clouds of death can emerge anywhere, and at any time. This must be dealt with collectively, and India will certainly do her bit to ensure terrorism is dealt with head-on and is ended."
This independence day speech was PM Modi's 6th consecutive speech and was also his longest one. While he touched upon most of the important issues that our country faces today, he failed to recognize that India's growth rate has fallen to 5.8% for the three months ended March 2019, its lowest in 17 quarters, while research group CMIE estimates the jobless rate rose to 7.51 percent in July from 5.66 percent a year earlier.
- Khrish Shahani
Image Source: HindustanTimes