PM Modi's Speech about Article 370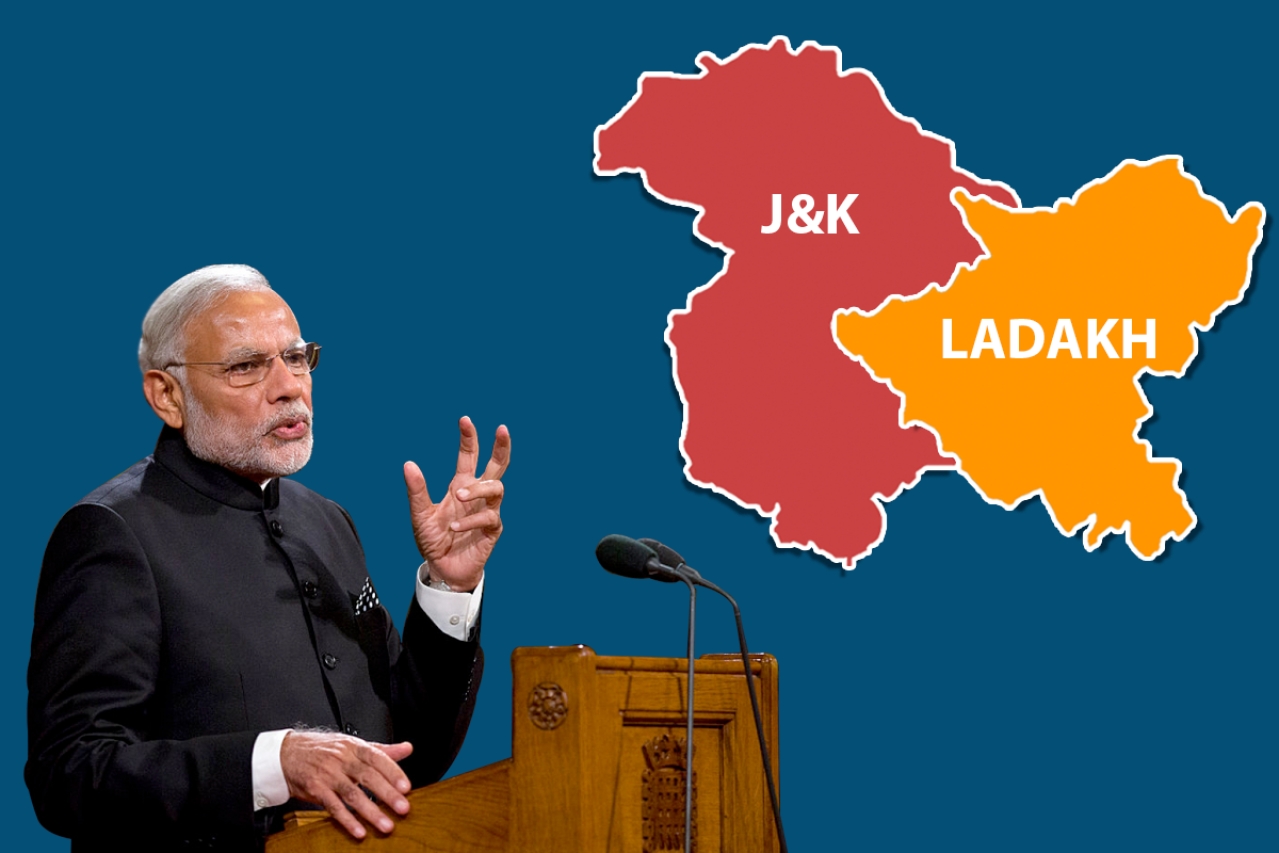 Prime Minister Narendra Modi discussed the abrogation of Article 370 and 35(A) for the first time, during a televised address on Thursday, 8th August 2019.
PM Modi highlighted a few key points regarding the matter and discussed the future of Jammu & Kashmir as well as Ladakh. He spoke about his party's vision, appealed to opposing political parties and gave an assurance of the peace for the people of Jammu & Kashmir.
Here are the key points of his speech:
Benefits of Article 370:

PM Modi began his speech by addressing the benefits of revoking Article 370

He presented all of Jammu and Kashmir's problems as a product of Article 370, citing loss of lives and lifestyle of the people living there as causes of the same

He said that Article 370 was being used as a tool to spread terror and was a hurdle for the development of Kashmir

"Article 370 and 35(A) gave only separatism, nepotism and corruption to the people of Jammu and Kashmir."

PM Modi stressed that a radical climate had become normalized in Jammu & Kashmir as the status quo, saying- "Some things are normalised to the extent that we accept them. We start believing that nothing will change. So was the case with Article 370. Because of this, the disadvantages that people of Jammu and Kashmir and Ladakh were facing had stopped being discussed."

He urged fellow Indians to think of Jammu and Kashmir's problems as their own

Tourism in the 2 Union Territories:

Jammu & Kashmir, and Ladakh were earlier known to be the top tourist destinations in the country

For years filmmakers used this location as their preference to shoot films

PM Modi said he was confident that now even international films will be shot there, encouraging large amounts of tourism

He said "J&K and Ladakh have the potential to become the biggest tourist destination in the world. The reforms required for this are being done. I urge the Hindi, Telugu and Tamil film industry to come to J&K for shooting their projects."

Minorities in the state:

Discussing the future of minorities he said "In other states, Dalits have a law to protect them from exploitation but not in Kashmir. For minorities in other states, there is a law but not in Kashmir. There is a minimum wage law for workers in other states but was only on paper in Jammu and Kashmir. There is reservation for SC/ST in other states, but not in Kashmir."

PM Modi emphasized that all of this would now be possible in the new UTs of J&K and Ladakh

Leadership and governance of the 2 Union Territories:

Since the Governor's rule was implemented in J&K, state administration has been directly in touch with the Centre due to which the effects of good governance can be seen on the ground

The decision to keep Jammu and Kashmir directly under the central administration for a brief period was a planned decision

PM Modi also addressed electoral representation saying that- "For decades, lakhs of people in Jammu and Kashmir had the right to vote in Lok Sabha polls but they could neither vote nor contest in Assembly/local polls. These are those who came to India after partition in 1947. Should injustice have continued with them?"

He assured the people that as development follows, J&K will not stay a Union Territory and will become a state with a Chief Minister and a proper functioning cabinet, saying- "J&K will not remain a UT forever. You will get the opportunity to elect your representatives soon. I want to tell the people of Jammu and Kashmir that your representatives will come from among you,"

However, regarding Ladakh, he said- "As Jammu and Kashmir will see more and more development. I do not think it will remain Union Territory for long. Ladakh will remain the UT."

Right to Education:

About women and children, he said that- "Children in other states have the right to education but those in Jammu and Kashmir remained away from. What is their mistake? Women in other states enjoy rights that women in this part of the country do not get. Safai karmachari Act is implemented in all parts of the country. However, in Kashmir, there is no such law"

He stressed that now with the abrogation of Article 370, women and children will have access to all the rights that they deserve.

Dynasty Politics:

Commenting on past leadership of J&K, PM Modi stated that- "Decades of family-based politics has provided no guidance to the youth of Jammu and Kashmir. Now the youth will help rise Jammu and Kashmir to heights like never before. I would like to appeal to all young boys and girls to come out and take the reigns of the place in their hands,"

Plants and Herbal products:

PM Modi brought to the nation's attention that there is a plant known as Solo, which is a boon to the people living in high altitudes that has vast healing properties

He urged people to start selling such plants and herbal products all over the region

Modi stated that these products will be identified and marketed to benefit the local farmers of the region

"Be it the colour of Kesar or the taste of kahwa, the sweetness of apple juices or the juiciness of khubani, be it the Kashmiri shawl or Ladakh's organic product, all of this needs to be advertised all over the world." He added.

Panchayats:

Narendra Modi commended the Panchayats for the good job they were doing

He credited the elected Panch and Pradhan, for the speedy implementation of development projects

Respect for the opposition:

Referring to his opposition in both the centre and J&K's regional parties PM Modi said- "There are some people who opposed to the government's move, I respect their opposition; it is essential in a democracy. The Centre is responding to them (opposition) and we are working to improve things. I urge them to act in the nation's interest and help the government and nation in creating a new environment in the region."

Peaceful celebrations:

PM Modi assured the people of Kashmir, that those celebrating Eid will have no problem, stating that- "I urge the people of J&K and Ladakh to show their capability to the world. I assure the people of J&K that things will return to normalcy. I congratulate the people on the occasion of Eid. The government is trying to ensure that the people of J&K face no difficulties in celebrating Eid,"

He said he will ensure that anyone coming into the state to celebrate with their families will receive all the help they need.

Employment:

Narendra Modi spelt out all the development plans he has in mind for the 2 Union Territories

He stated that all state government and police employees will soon get the benefits that other state employees get

He also said that- "The vacant posts in Jammu and Kashmir will be filled. This will benefit the youth of Jammu and Kashmir. Local youth will receive employment. State companies, as well as private companies, will be encouraged to create jobs for the local youths in the state."
- Arsh Malhotra and Tarini Ranadive
Image Source: Swarajyamag